Forge Manipulators & Robots
We design Manipulators and Robots to handle your workload. We will work closely with your team from design stage to completion, to ensure you receive a unique machine that is tailored to your unique operational environment. 
Your robot will be robustly built to expertly handle the stress, frequency and loading pressures you require for optimal output. We'd be happy to arrange a virtual meeting with you to discuss your needs and start building a robot that meets your objectives.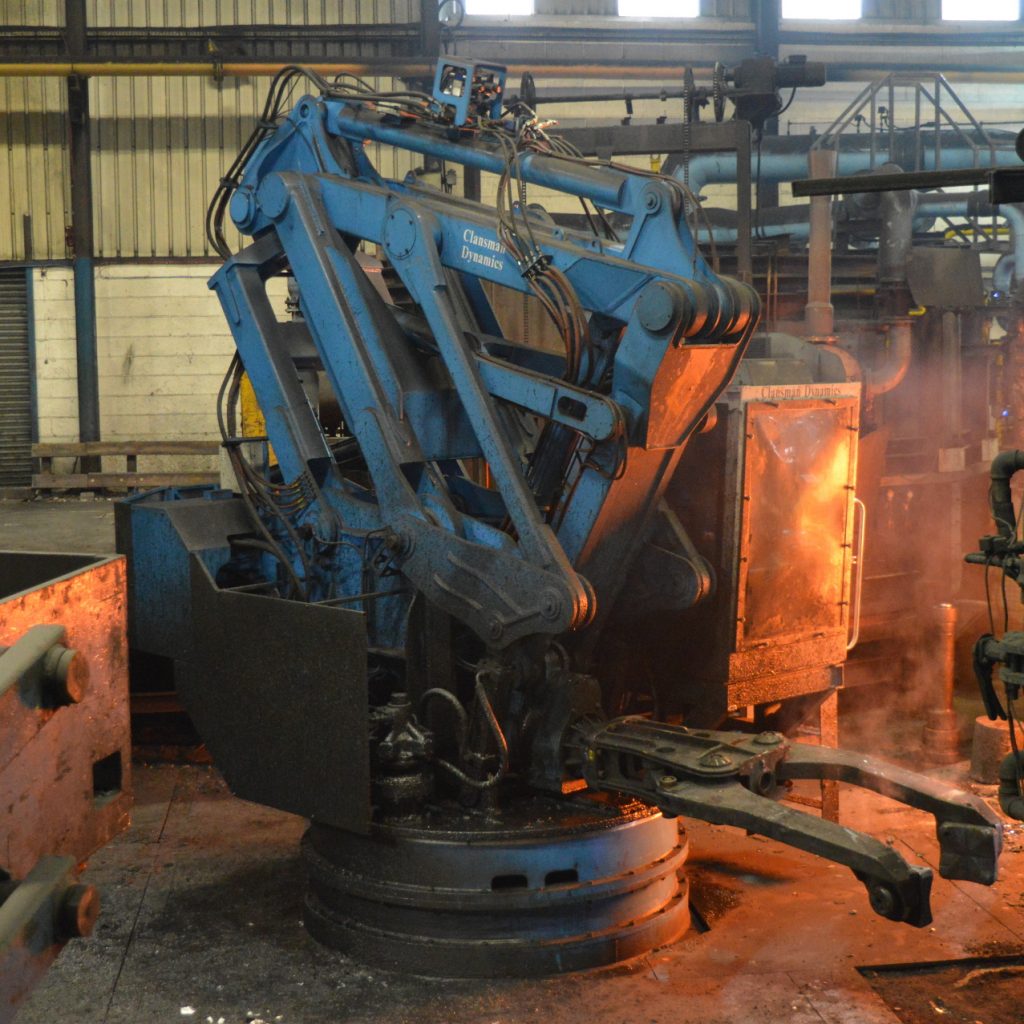 Single Pantograph Forge Manipulators
Clansman Manipulators are currently excelling with robustness and precision in most of the world's leading forges. They have proven to be an effective way of feeding furnaces, mills, hammers and presses.
Our manipulators are analysed and reanalysed, allowing us to guarantee your equipment's reliability and long service life. That long life means 10 years of operation, on 3 shifts per day, with a cycle every 6 seconds. A ferocious duty where you can expect 40 million cycles, delivered with reliability, minimal stoppages, and reduced maintenance costs.
Double Pantograph Manipulators
Clansman Dynamics has developed a range of extended reach, double pantograph manipulators to allow safe and reliable handling of your parts in even the tightest of spaces. Reaching deep into high-temperature furnaces or open/closed die forging processes becomes a simple task.
The double pantograph geometry produces straight-line motion in the horizontal and vertical axes – a critical benefit that protects the furnace hearth and refractory. And the ability to fully automate the equipment provides optimum functionality with minimal human intervention required.
Clansman Dynamics has a range of linear axis forging robots to complete your forging processes without the need for human intervention. Our robots can load parts into a heat treatment furnace and conduct fully automated isothermal development processes.
Our hydraulic and servo-electric robots are fully bespoke design to solve your operational environment's unique problems and dimension. Our robots are highly precise, with low operating and maintenance costs. You can expect these machines to improve productivity and efficiency significantly.
Manipulators with extreme flexibility and dexterity
One of our team would be happy to talk to you about your project to see if Clansman Dynamics could be the right solution for your business.